Unit 7
Rossington Business Park
West Carr Road
Retford
Nottinghamshire
DN22 7SW

Tel:  01777 703200
E-mail: pro-cast@btconnect.com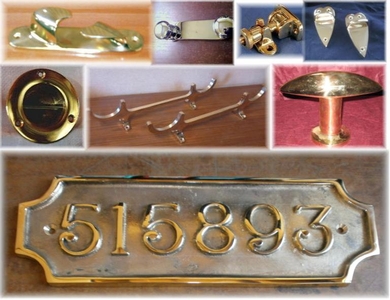 Creators and developers of the brass double-glazed porthole (Grand Union and Tug style) and the replica "Francis" style lamp, Pro Cast has been producing and supplying quality products to the boating trade for over 20 years.  Our range of products have gained a reputation for quality and reliability and our innovative designs have kept us at the forefront of the industry.  We can supply all your requirements for your boat, including windows and vents, and the liners to suit in a range of finishes; lights for your boat including navigation lights, search and tunnel lamps as well as interior lights and switches; fenders eyes and plank and pole racks; a range of fires, chimneys and pumps for your heating and bathroom; even your curtain rails and name plates.  Pro Cast use brass, aluminium and gunmetal in their castings and can provide, if required, our range of products in a chrome or powder coated finish.
Recently, the company has begun producing castings for the building trade, and vintage car and custom bike enthusiasts, in both brass and aluminium.  Our capacity to design and manufacture individual patterns for castings has also expanded our reputation and enhanced our profile in an ever-expanding market.  We also provide a metal polishing service to return old tarnished products to look like new.
As we manufacture to order, it should be noted that time should be allowed for manufacturing, finishing (polishing and chroming or powder coating) and then completion. Please do not hesitate to contact us should you have any queries.
Delivery is quoted on a per item basis unless otherwise stated. However, should you wish to order a number of items, please contact us for the delivery charge for your complete order – after all we understand that delivery on a per item basis will have a substantial effect on the total cost of your order. Please read our information on Delivery Charges.
We are happy to discuss your requirements or to provide advice on any products contained in our catalogue, or to assist in the design and manufacture of your particular order.

All prices quoted are inclusive of VAT at the prevailing rate .
We welcome enquiries from both retail and trade.
New products are being added regularly. Come back and visit us soon.
Brian and Sandra.
Opening Hours: Monday to Friday – 9.00am – 5.00pm
Weekends – by appointment